Boss Portable Stadium Light Towers
Boss Portable Stadium Light Towers are equipped with sixteen high powered lights and range in height from 50 to 100 feet. Request a demo today!


Electric or Diesel Powered
Reduce your carbon footprint

Save on Rental Costs & Labor
One flat rate with no hidden fees

Portable, Durable, High Quality
Freight available anywhere in North America

Operator Safety Certified
Reduce operator error with automated safety features

Exclusive Patented Features
Fuctionality, innovation, and 15 minutes setup
The Original Portable Stadium Light Tower
No Project Too Big Or Too Small To Light Up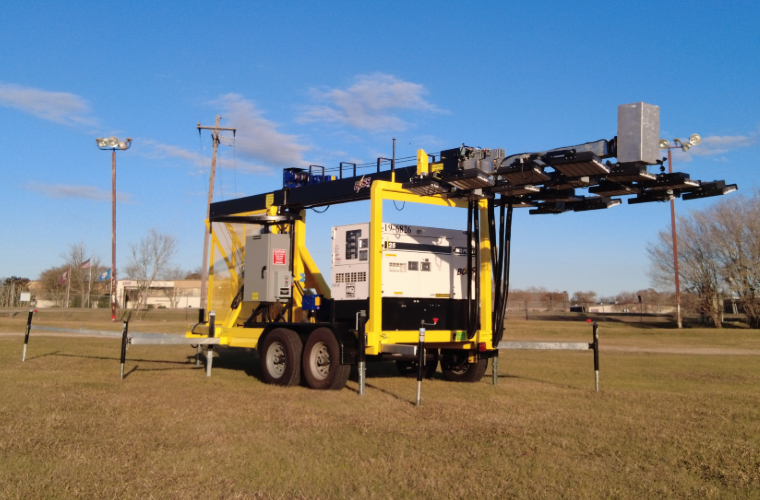 Boss Portable Stadium Light Towers are the industry standard built on safety, quality, and time tested experience. Boss has over 30 years experience building and manufacturing these large portable stadium light towers. These mass floodlighting towers are available for rent and purchase at 60′, 80′, and 100′ feet.
A single portable stadium light tower produces a high volume amount of uniformed light that realistically can take the place of 10 to 15 commercial towers. Towers come with 16- high powered floodlights for any with enough illumination to light up 60-100 acres. The stadium light tower's ease of deployment and installation will save your company valuable time and money. It's additionally ideal for industrial, construction, refinery construction, oilfields, large excavation sites, concrete pours, sporting events, mining, any anywhere you need light.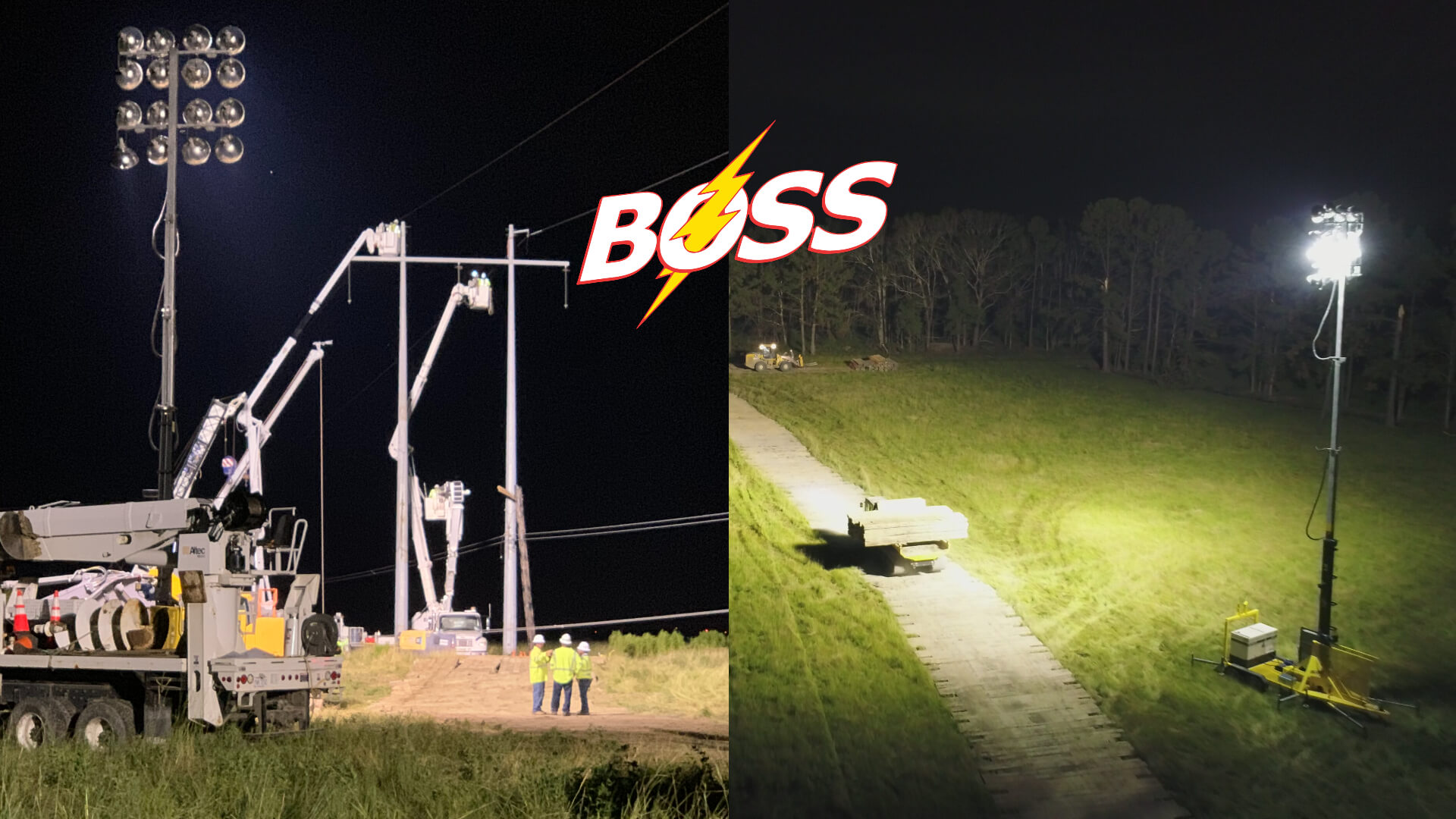 Disaster Recovery
Boss Portable Stadium Light towers played an integral part in the recovery efforts after hurricane IDA and Laura in recent years. Several different model light towers ranging from 20-100′ feet were utilized for lighting and temporary power for the areas affected.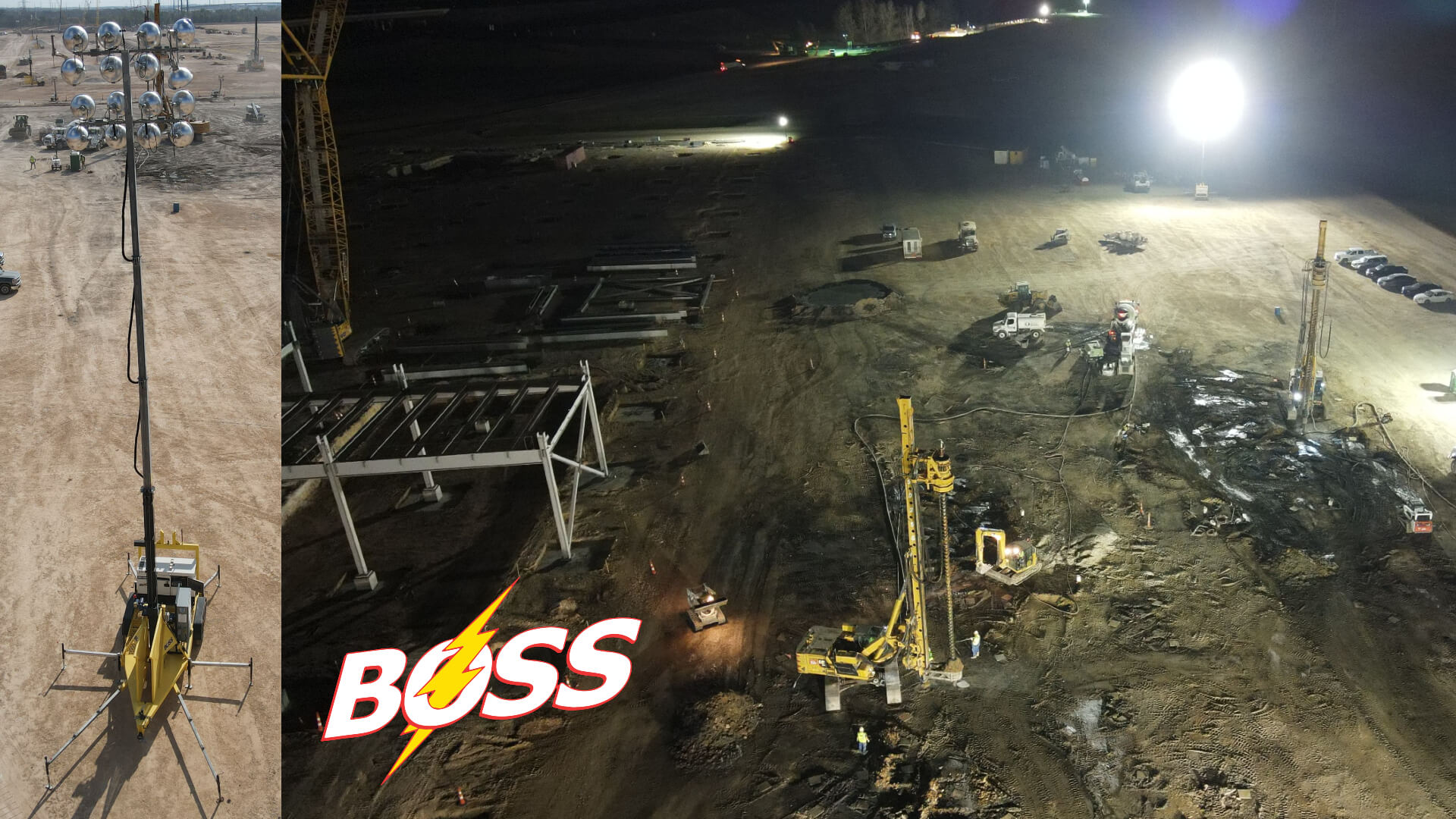 Large Construction
In areas where lighting and power doesn't exist and new construction needs to be performed, our light towers are the perfect solution. Boss has several large contractors all over North America using our large portable stadium light towers to light up the jobsite.
The Leaders of the Portable Stadium Light Tower Industry
Complete the form below to be contacted
Aerial Stadium Light Tower Demos
Let's Light Up Something Together
All Boss light tower products are built and manufactured in the United States. The stadium light tower's ease of deployment and installation will save your company valuable time and money.
What can a portable stadium light tower be used for?
These massive portable light towers are commonly used for industrial, large construction, refeneries, concrete pours, sporting events, oilfields, strip mining, festivals, concerts, laydown yards, airports, hydroelectric dams, disaster recovery, and more. Boss light towers can be powered by an onboard diesel generator or tied into existing utility power.
Does Boss help with the setup and deployment for use?
Boss technicians will deliver the portable stadium light tower onsite, setup, and train your staff on how to use all the tower features. It only takes us 15 minutes from start to finish to get the tower deployed for operation. All Boss light towers come with operator instructions and 24/7 service support.
What safety and cost saving features do they come with?
Safety features include the following:
Limit switch electric lock out prevents operator error.
Beacon light illuminates when tower is in motion.
Protective cages eliminate cable pinch points.
Wind monitor auto lowers tower at high winds.
Visual operating instructions with fail safe electrical controls.
Telescoping safety features to prevent operator error at all costs.
High-Intensity, Telescoping Light Tower With Safety Features – Patented – U.S. Patent 10,393,324
Costs and Rental Savings include the following:
One flat monthly billing rate, no hidden fees.
No fees for call outs or after hours service.
Unlimited monthly hourly usage on tower/genset.
Reduced labor on servicing small light towers.
Reduced amount of refuelings of smaller towers.
One Stadium Tower can replace 10-15 small towers.
What powers options are available to power the lights?
All portable stadium light towers have the capability to be powered by an onboard diesel generator provided by Boss or your onsite utility power. Power options will be discussed at the time of rental or purchase.
Can these light towers rented anywhere in North America?
Yes. Our team delivers and freights our stadium towers all across North America. The customer also has the option to send their own freight service for a pickup or use Boss freighting services if a technician isn't required for deployment of the light towers. All stadium towers are designed to be pulled over highways. Trailers come equipped with braking system and DOT lighting, 3″ ring hitch and dual safety chains.
"These stadium light towers are used for every new project and turnaround at our refinery. We've replaced so many small light towers in return saving us money on wasted labor, fuel, and rental costs."
"These towers put out a massive amount of light and have helped us run our entire sports and concert venue for years. I highly recommend their products for the high quality, cost, and customer service!"
"Love using Boss for all our lighting needs! We really enjoy the technician support we receive. These towers light up all of our large construction projects across North America. Great company."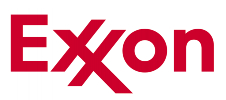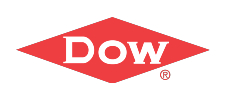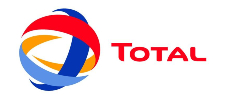 34378 Terminal Court, Geismar, LA 70734
Boss freights nationally and has three locations in Louisiana and Texas
Please submit a contact form