Hazardous Location Lighting – 12V Explosion Proof I-Link String Lights
The portable hazardous location proof lighting kit is specifically designed for illuminating confined spaces where flammable gases, vapors, liquids and dusts may be present. 12V AC string light stands out from other hazardous location lighting by combining the efficiency and performance of LED technology with robust design and construction. Lighting system includes an emergency backup battery.
Class 1 lights are UL rated and certified for confined space entry and are typically used for cleaning/inspecting vessels or fuel cells, plant turn-around, marine work areas, paint booths, etc. Class 2 rated lights are typically used in areas that have grain, sugar or munitions.
Learn more about hazardous location ratings with our simple classification and ratings sheet.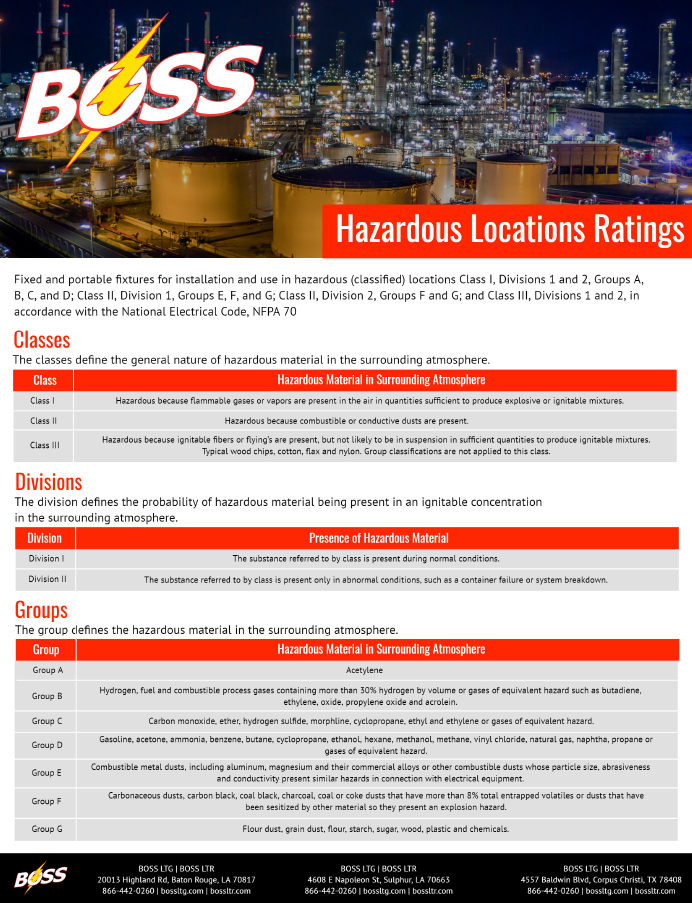 View More Explosion Proof Lighting Products – 12V & 120V Hand Lamps and String Lights
Boss offers LED, incandescent, and fluorescent portable explosion proof work lights, task lights, and speciality built applications. View our selection of hazardous location explosion proof lighting below: