Light Tower 25kva GFCI Power Distribution Substation
Boss Portable Lighting offers safe explosion proof lighting, general floodlighting, light towers, and power distribution solutions.
25kva Light Tower Power Distribution Substation with 20′ LED Light Tower
25kva Power Distribution Substation, Model TDS25-10C-480V
25′ Power Cord w/open end wire -hard connection.
60 amp Main Fused Disconnect /45a – 600v Fuses.
Load side of Disconnect connected through tubing to line side 480v, 1ph to Encapulated WP.
25kva Transformer, 480v to 120/240v, 1ph, 4 wire.
Secondary of Transformer is connected to line side.
125a Load Center with Main Breaker, 1ph,N,Grd.
Installed 10 X 20A, 1P, Circuit Breakers.
Load Center mounted within a Nema 4 enclosure.
5 x 20a Duplexs mounted down each side of box.
10 x 20amp Duplex GFCI (UL-WR MARKED) 5-20R.
10 x " In-use " required receptacle covers.
This specific design is for use on all hard surface areas: Asphalt, Concrete, and Shell-Rock. Trade Task usage would include: Electrical, Carpentry, Pipefitter, Valve Assembly, Outside Tank & Vessel Work Areas, and Inside Plant Battery Units. Combining both the power distribution substation and light tower makes the perfect application for any type of contruction or maintenance project.
20′ LED Light Tower, Model PPL4LED-20-200
104,000 Total Lumens
4 High Powered LED Lights
800 Total Watts
120 Volts
Electric Powered
Adjustable Light Direction
Hand Crank Telescoping Winch
Max Heigh 20′, Min Height 6′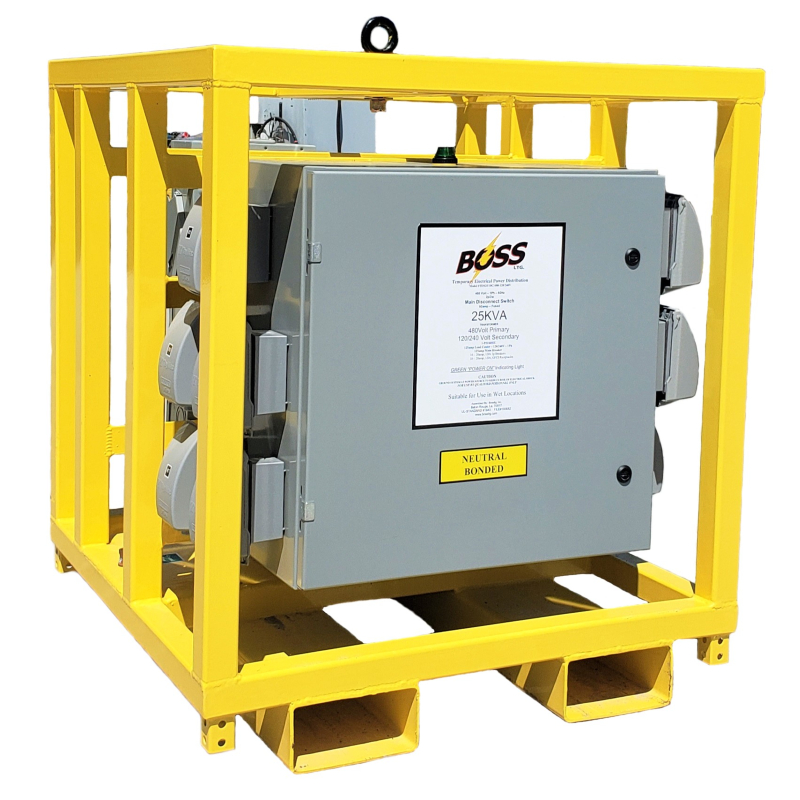 View More Boss Portable Power Distribution Substations, 10kva, 15kva, 25kva, 45kva, and 50kva options in carts, trailers, and skids
Boss has over 40 years of design, manufacturing and electrical assembly experience with Accredited Production Certifications that include having on staff Certified Welders, Electricians and Diesel Engine Mechanics. Our current team of administrators are UL Certified Portable Lighting and Electrical Distribution educated and trained to produce the lighting and electrical products offered by Boss LTR.